Regular price
Sale price
$8.00 USD
Unit price
per
Sale
Sold out
Share
Experience Luxurious Skin with our Milk and Honey Goat's Milk Soap!
Indulge in the ultimate bathing ritual with our exquisite Cold Processed Goat's Milk Soap. Crafted with care, this soap is designed to nourish your skin and awaken your senses, leaving you feeling pampered and rejuvenated.
Enriched with the Goodness of Goat's Milk: Our soap features creamy goat's milk that provides a gentle and moisturizing cleanse. It's perfect for sensitive skin, helping to soothe and hydrate with every use.
Soothing Colloidal Oats: We've incorporated colloidal oats to provide a calming and soothing touch to your skin, making this soap ideal for those seeking relief from dryness or irritation.
Premium Ingredients: Our soap is lovingly made with a blend of nourishing olive oil, shea butter, and cocoa butter, ensuring your skin feels soft, supple, and thoroughly nourished.
The Allure of Milk and Honey: Immerse yourself in the warm, comforting scent of Milk and Honey. Let the rich notes of cream, sweet honey, and brown sugar envelop you in a cocoon of pure indulgence.
Elevate Your Bathing Experience: Transform your daily shower or bath into a spa-like escape with the soothing aroma of Milk and Honey. The lather is creamy, the fragrance is enchanting, and the results are simply luxurious. Pamper yourself or delight a loved one with the gift of opulent skincare. Elevate your self-care routine with our Milk and Honey Goat's Milk Soap, and let the rich scent of cream and honey transport you to a realm of relaxation and bliss. Experience the difference of natural ingredients and captivating fragrances. Try our Milk and Honey Goat's Milk Soap today and unveil the secret to radiant, silky-smooth skin!
Ingredients: Goat's Milk, Olive Oil, Tallow, Shea Butter, Cocoa Butter, Coconut Oil, Castor Oil, Sodium Hydroxide, Fragrance. May contain: Fragrance, Skin Safe Mica , Titanium Dioxide, Collodial Oatmeal, Poppy Seeds, Crushed Walnut Shell, Coffee, Dried Fruit Peel, Flowers, Organic Essential Oil, Activated Charcoal
These statements have not been evaluated by the FDA. This product is not intended to diagnose, treat or cure or prevent any disease. Individual results may vary. Review ingredients; if you have sensitive skin, perform a patch test. Discontinue use if rash develops
. 

View full details
Shipping

Item ships within 3 business days generally. During times of high sales volume (release days), check the banner at the top of the page for the most up to date information on shipping times. Thank you for shopping small!

Returns

Due to the personal nature of our products, returns will not be accepted. Please let us know if you have an issue with your shipment so we can make it right! We love happy customers!!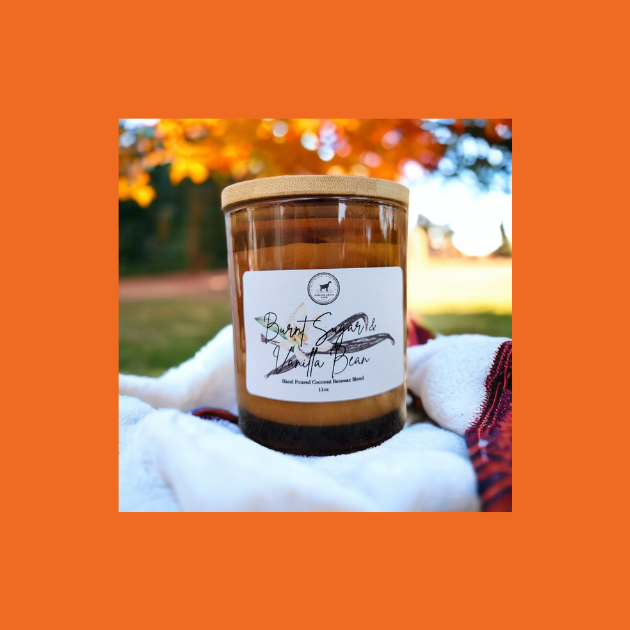 Cozy, warm scents ready to be burned to freshen your home before guests arrive or simply while reading a good book on a chilly night. From our farm- to your home.
You'll love our products because of what we put into them-- And what we leave out